Cooperation with Fuji Industries & Cevotec at JEC World
Dear friends of Fiber Patch Placement,
With this short newsflash, we are happy to announce our partnership with Fuji Industries Co., Ltd. We signed an exclusive representation and sales partnership agreement for the Japanese and Thai markets. With Fuji Industries as an experienced partner, we can now serve the requirements of advanced composite manufacturers like the Japanese aerospace and auto industries even better than before.
And as JEC World opens its doors in only a few days, we herewith cordially invite you to join us at hall 5, booth Q80 to get an update on the latest Fiber Patch Placement developments. How about a 50x scaled patch size? Let us know if you still need a ticket – we invite you with a free voucher!
Your Team Cevotec
Contact
+49 89 2314 165 0
advantages@cevotec.com
Company news
Cevotec and Fuji Industries join forces for Japan and Thailand
Japan, home to some of the world's largest fiber manufacturers, is an important market for composites. Japanese manufactures showed strong interest in FPP technology already at SAMBA's market launch in 2017 and during our delegation trip to Japan in 2018. Fuji Industries, an established partner to the Japanese aerospace and composites industry, identified the potential of Fiber Patch Placement technology early on. Now, Cevotec and Fuji Industries establish an exclusive sales and marketing partnership for the Japanese and Thai market. Junji Yamada, President of Fuji Industries Co., Ltd, who personally came to our headquarters to sign the agreement, is convinced: "The unique Fiber Patch Placement systems are serving exactly those automation needs we can observe in the Japanese composites industry." Welcome to the team – we are happy to have Fuji as a new partner!
Effective immediately, Fuji is exclusively licensed to represent Cevotec and offer all Cevotec products in Japan and Thailand. We also collaborate closely in customer service to provide turnkey solutions including after-sales services and support.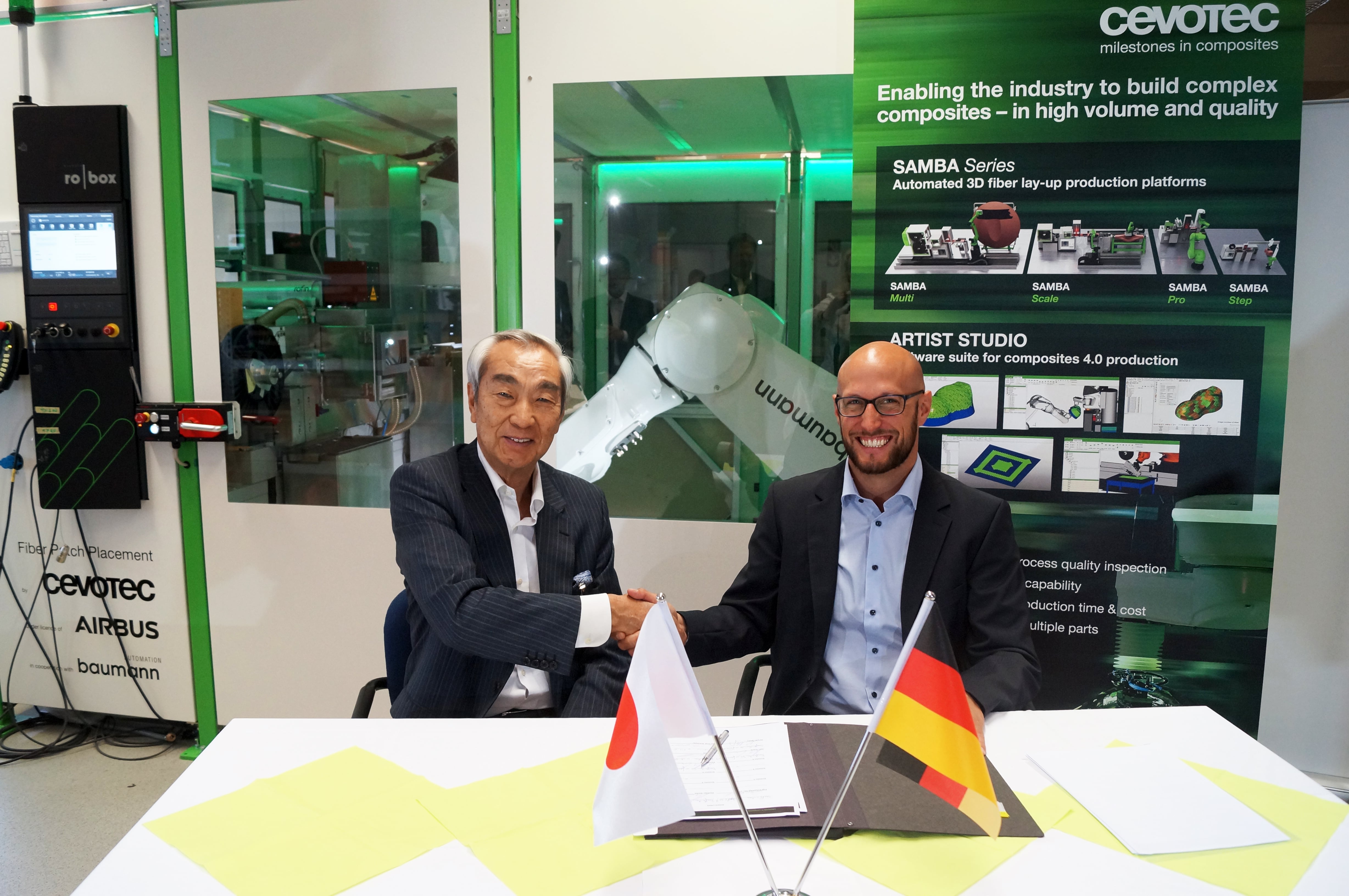 Events
Cevotec @ JEC World 2020
Scaling up FPP at booth Q80, hall 5
Visit us at JEC World and get first-hand information about the latest advancements of our SAMBA systems. Set up in our cevoLab near Munich, SAMBA Step L is dedicated to meet aerospace industry's demands to produce complex and large aerostructures with Fiber Patch Placement. The largest member of the SAMBA Series family can handle a maximum patch size of 200 mm x 300 mm as of today. That's a scaling of 50x compared to the initial 20 mm x 60 mm patch area that we started with in 2015, and will widely expand the range of components processable by FPP technology. Primary goal is to serve aerospace's application development requirements. To perfectly support the scaled patch size of SAMBA Step L, also our FPP-specific software ARTIST STUDIO got some advanced features like the new draping algorithm.
We'll also have new and interesting demonstrator parts at our booth – check them out in hall 5, Q80. Just drop-by or schedule a meeting with our management team!
FPC at the Automation Hub
With more than 500 m² of lab space, the Fiber Placement Center (FPC) in Meitingen, Germany, offers customers the opportunity to develop and test production concepts and to evaluate their feasibility and potential by prototyping. The FPC is equipped with state-of-the-art fiber placement machines and offers development expertise along the entire composite value chain: from materials to components. Since 2019, Cevotec is a proud partner of FPC, adding a SAMBA Pro system to the lab space this year. The FPC booth is located at the Automation Hub in hall 6, D85 – come by and experience the scope of the FPC portfolio! Our CEO Thorsten Groene will present latest automation trends for multi-material aerostructures.
INNOVATION PLANET Aero & Space
See the multi-material demonstrator part of a major component of an engine nacelle structure, developed together with SAFRAN. The part is additively and fully automated manufactured by a Cevotec SAMBA production system. Materials processed are carbon fiber prepreg, glass fiber prepreg and adhesive prepreg.
INNOVATION PLANET Mobility
Patches reduce weight, cost, and cycle time for high pressure vessels like hydrogen tanks! Together with Mercedes-Benz AG and IDVA GmbH, Cevotec developed a demonstrator for saving material, weight and cost as well as cycle time in manufacturing hydrogen pressure vessels. Dome reinforcements, placed with Fiber Patch Placement, in combination with standard filament winding, strengthen the critical areas of the structure and thereby enable material, time and cost savings. Showcased at the mobility planet, you will see an illustrative example of pressure vessel dome reinforcement.

Still need a show ticket? It's on us! Send us a message, we'll send you a free voucher for JEC World!
Events
See you around?

We hope to see you in Paris!
Or at any other of the following events and conferences:
AeroDef Manufacturing
March 16 – 19, 2020
Fort Worth, Texas
Meet John Melilli, Composite Automation for Cevotec
ILA Berlin
Mai 13 – 17, 2020
Berlin, Germany
Meet Dr. Neven Majic Neven and Thorsten Groene in the ISC (hall6), booth 166
CAMX – The Composites and Advanced Materials Expo
September 21 – 24, 2020
Orlando, Florida
Meet Cevotec at booth M65
From the press
Don't miss the latest reviews about Fiber Patch Placement
Thank you for spending some time with us
Your colleagues and business partners might be interested in information about Fiber Patch Placement? Please forward the newsletter – and here's the link to our subscription page.
See you in Paris!
Your Cevotec-Team
Copyright © 2020 Cevotec GmbH
You receive this email because you've either actively subscribed to our newsletter or explicitly consented to receive our mailings. Data protection has a high priority at Cevotec. Your personal information is safe with us. Please read details on how we protect your data in our Privacy Policy. Every email from us includes an unsubscribe link. You can also contact us directly at advantages@cevotec.com.