FPP & SAMBA: combination champion, control freak, artist and award winner 
Dear friends of Fiber Patch Placement,
After a busy and successful spring, we are far away from a summer doldrum. Especially our activities in aerospace are ramping up further and we will soon deliver another FPP system. We'd love to share with you some news and development updates of our SAMBA systems with self-corrective process control. As always interesting: our event line-up and award-winning FPP concepts.
Enjoy your read! !
Your Team Cevotec
Contact
+49 89 2314 165 0
advantages@cevotec.com
Applications
Reinforce saving: patches in high-pressure vessels
Hydrogen-powered electric vehicles are on the rise. The gas tanks, made out of carbon fiber, need to withstand very high pressures, and hence require a lot of fiber material. Especially the dome areas are difficult to master efficiently with existing technologies. The solution for manufacturers is an intelligent combination of filament winding with dome reinforcement by Fiber Patch Placement, enabling >20% in time & cost savings.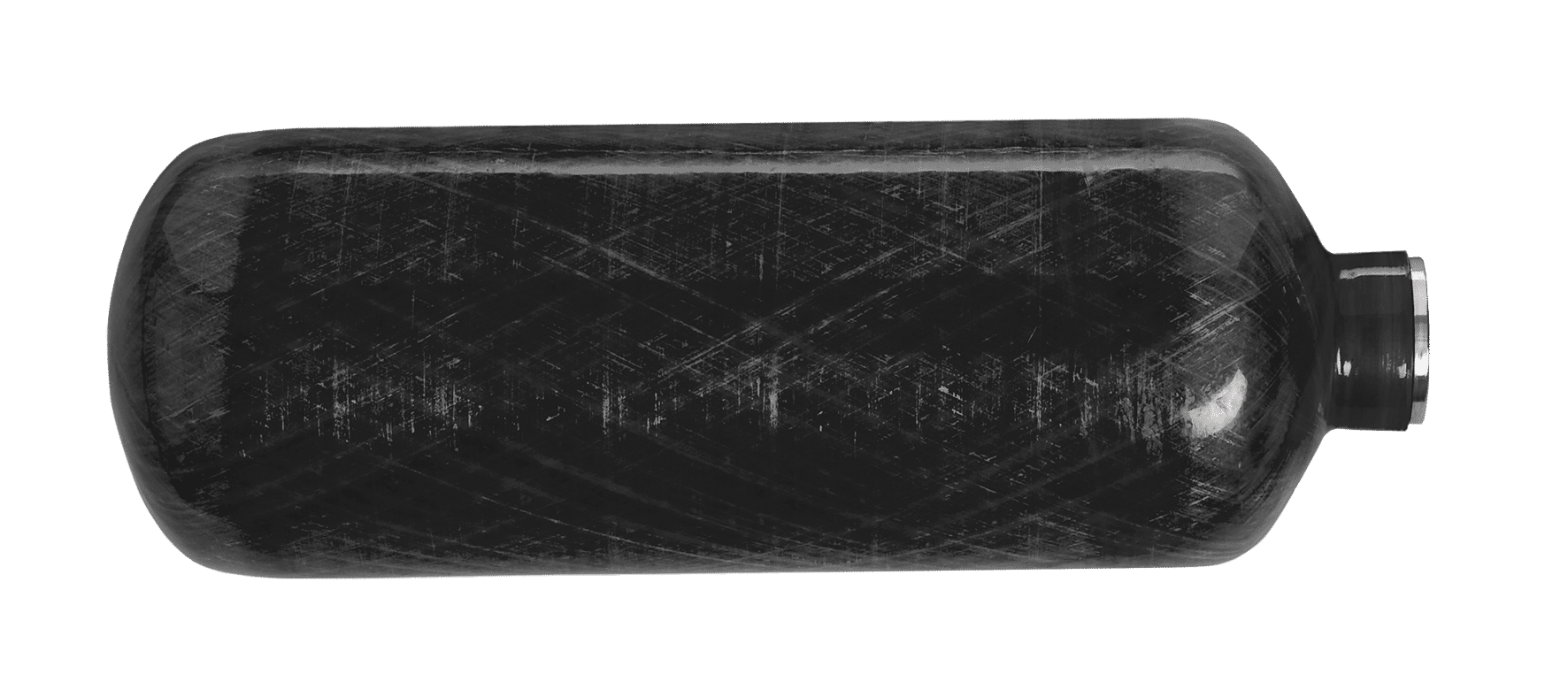 Technology
SAMBA's self-corrective process control
Composites manufacturing experienced notable advancements in automation in recent years; however, the level of process control – and subsequently quality control – for precise fiber layup is still far behind that seen in other manufacturing processes. Fiber Patch Placement offers an automated solution incorporating a new level of self-corrective process control, ensuring both the quality of the parts and the reliability and availability of the production system.
Technology
SAMBA Series – modular configuration options
Based on a smart toolbox concept, SAMBA Series FPP cells are customizable to your requirements. The basic system set-up consists of a placement robot with a vision camera and a tool holder or manipulator. Options like automated material handling and cutting units, cameras and sensors for integrated process control, as well as any kind of suitable robot configuration, can be added anytime. The system is digitally implemented into our ARTIST STUDIO software, which allows you to design parts and program the robots fully automated.


Contact us to discuss how to get started with Fiber Patch Placement!
Awards
Industry of the Future: And the winner is …
We are happy to announce that Cevotec was honored with the "Materials and Processes of the Future" Award, endowed by SKF as part of the Industry of the Future Challenge. The grand finale took place in June at the Space Campus in Vernon, France. Our Fiber Patch Placement concept convinced the jury of senior executives from SKF, Atos and ArianeGroup.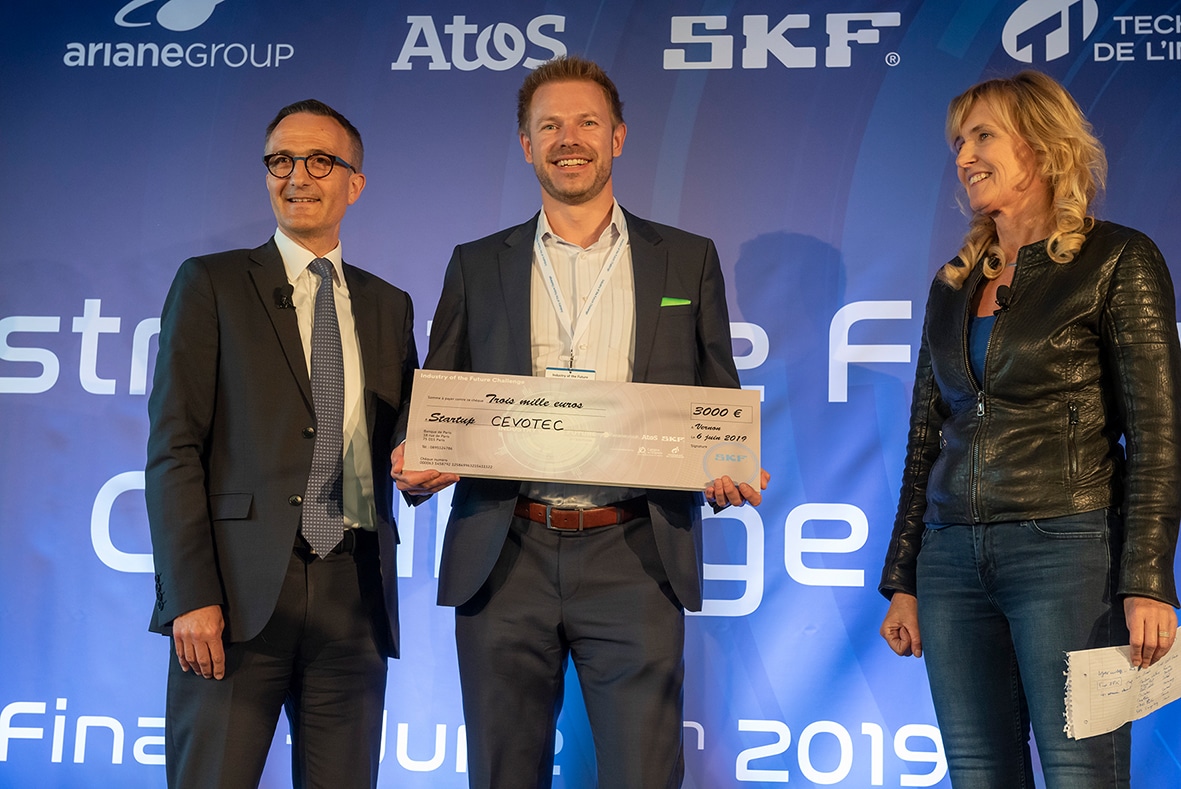 Events
Haven't seen you here …
As always Cevotec experts travel the world to promote Fiber Patch Placement technology. John Melilli of our US partner Composite Automation spoke at AeroDef Long Beach about FPP empowering aerospace composite parts manufacturers to increase productivity, part yield and quality while reducing costs. Cevotec's Chris Fleischfresser spoke at the Composites 4.0 conference in Oxford, UK, about how the discretization of fiber lay-up enables FPP's self-corrective process control. And our CTO Felix Michl talked about automated multi-material lay-up for aerospace applications at Composites in Aerospace Forum in Zurich, Switzerland.
No time for travel?
Events
See you around?
We are looking forward to meeting you at the following events and conferences.
Global Urban Air Summit
September 03 – 04, 2019
Farnborough, UK
Composites Europe
Hall 7, booth C86-18 (Composites Germany Area)
September 10 – 12, 2019
Stuttgart, Germany 
CAMX
Booth G71
September 23 – 26, 2019
Anaheim, California
Composites in Motorsport
October 22 – 23, 2019
Oxford, UK 
Advanced Engineering
Hall 3 / 4, booth L74
October 30 – 31, 2019
Birmingham, UK
From the press
There is some news from the press, too. In Aerospace Manufacturing our composites project manager, Dr. Dimitrios Sikoutris, examines the latest advances in multi-material lay-up of aerospace sandwich structures. In Composites Manufacturing you read how Fiber Patch Placement cuts lay-up time and reduces the amount of fiber required for a composite. And in Techniques de l'Ingénieur you can read the interview with Thorsten Gröne on our participation in the Industry of the Future Challenge.
Thank you for spending some time with us
It was a pleasure to share latest development and news with you!
You think that information about Fiber Patch Placement is also relevant for your colleagues and business partners? Please do not hesitate to forward the newsletter – here's the link to our subscription page.
Have a good time!
Your Team Cevotec
More information about products & services, press clippings or job offers can be found on our homepage.
Copyright © 2019 Cevotec GmbH
Sie erhalten diese Email, weil Sie sich entweder aktiv für unseren Newsletter angemeldet haben oder uns Ihr explizites Einverständnis zum Empfang unserer Mailings gegeben haben. Datenschutz hat bei Cevotec eine hohe Priorität. Ihre persönlichen Daten sind sicher bei uns. In unserer Datenschutzerklärung erfahren Sie, wie wir Ihre Daten schützen. Jede unserer Emails enthält einen Abmelde-Link. Sie können uns auch unter advantages@cevotec.com direkt erreichen.
Best
Your Cevotec-Team
More information about products & services, press clippings or job offers can be found on our homepage.
Copyright © 2018 Cevotec GmbH
You receive this email because you've either actively subscribed to our newsletter or explicitly consented to receive our mailings. Data protection has a high priority at Cevotec. Your personal information is safe with us. Please read details on how we protect your data in our Privacy Policy. Every email from us includes an unsubscribe link. You can also contact us directly at advantages@cevotec.com.