Newsletter March: Easter greetings & a newsflash of the last months
Dear friends of Fiber Patch Placements,
We started full speed into 2018 and are further accelerating – in all areas. Our carbon fiber cevoTape is now available online at our partner stores. ARTIST STUDIO is currently being extended by a plug-in for commercial FE-programs. And SAMBA dances prepreg for our aerospace customers. Still early in the year, we've already participated in some trade shows and conferences, first and foremost JEC World 2018 in Paris. And our new partnerComposite Automation is from now on our local point of contact for our customers and all things patch technology in North America.
With this newsletter, we'd like to give you a short overview of everything that happened in the first quarter of this year.
Your Team Cevotec
Contact
+49 89 2314 165 0
advantages@cevotec.com
Let's have it (cevo)Tape(d)
We developed cevoTape, a dry-fiber bindered spread tow made from high-quality carbon fiber rovings and a copolyamide adhesive, because automated fiber placement processes require superior tape quality to minimize downtime and ensure a high placement precision and repeatability. Of course we process our unidirectional carbon fiber tape in the SAMBA systems. cevoTape is also perfectly tailored for matching the requirements of AFP and ATL, therefore a great alternative to expensive aeronautic-certified tapes for applications e.g. in the automotive industry. cevoTape has a customized width within minimal tolerances and thanks to an integrated quality monitoring during production, it features a homogeneous filament distribution. The single-sided, uniformly distributed polyamide binder (Spunfab PA1541, PA1300, further materials on request) is activated at temperatures from 90 to 160°C. Thus, cevoTape can be easily applied in automated layup operations, and – another benefit – stored at room temperature. You can also approach us with your roving material of choice and have us manufacture your individual cevoTape. We process any high-quality fiber. Or choose from the pre-configured tapes, e.g. in the online shop of our first shop partner Haufler: Tenax-E HTS45 fibers, featuring 20 mm or 30 mm width and 80–107 gsm areal weight, separated with paper film, stored on Häfner spools (250 m length standard; custom lengths on request).
Interested to learn more? Contact us at advantages@cevotec.com.
Sie möchten mehr erfahren? Kontaktieren Sie uns unter advantages@cevotec.com.
Cevotec Plug-in für HyperMesh
We currently expand our ARTIST STUDIO software by a plug-in for commercial FE-software. It allows you to model a patch-based laminate fully automated, based on geometry, position and orientation of patches as defined in PATCH ARTIST. The features of the plug-in enable the modeling of the precise fiber orientation of each patch and also the thickness distribution considering gaps and overlaps. This works very well on sublayers and even on patch-level for a more detailed analysis.
Interested to learn more about virtual product development? Read our whitepaper on the Relevance of virtual product development for lightweight technologies.
An eyecatcher at JEC World: Efficiency for aerospace
It's the first prepreg patch part produced by our SAMBA system: a cover for an aircraft operating box, which Premium AEROTEC developed together with us. In the project supported by the German Ministry of Research, the demonstrator was a highly interesting outcome in several dimensions: all fibers are sourced from unused residual tape of AFP processes. Using this material in SAMBA increases the material efficiency of AFP to more than 90% – and enables the automated production of a part which, due to its complex shape, cannot be draped or press-formed without massive fiber distortions. With the help of our ARTIST STUDIO software and the Cevotec plug-in for HyperMesh, the component was calculated and optimized, which also allowed for a high efficiency in the virtual product development process. AFP processes often produce considerable amounts of unused residual material, as all bobbins of tape are changed simultaneously as soon as the material left on one bobbin is not sufficient to lay-up the next component. For larger parts, as much as 200 meters of tape are left on individual bobbins when exchanged. That was motivation enough for us to develop a solution for this cost-intensive problem.
Thus, SAMBA learned dancing prepreg. To enable the processing of the ½ inch-wide thermoset prepreg tape (Hexcel M21), we successfully adjusted our systems: Specific for SAMBA Prepreg production cells are a cooled material storage and an energy-efficient, photonic heating of patches. A powerful LED field, positioned parallel to the last quality control camera, irradiate only the bottom of the patch. In less than one second the surface of the patch becomes tacky enough and the patch can be minutely positioned on the mold. Patch by patch a complex 3D laminate is additively placed – our form-flexible cevoGripper also places across difficult surfaces with ease.
The final result is impressing. The demonstrator exhibited on our booth area during JEC World 2018 really was an eyecatcher.
A strong partnership for North America
One the first show day of JEC World in Paris, we announced great news: we partner with Composite Automation, LLC to introduce our additive patch technology to North American composite manufacturers.
John Melilli and his team at Composite Automation, LLC are from now on our official representatives in the United States, Canada and Mexico. As a result of the positive feedback we received as an Innovation Award finalist at CAMX 2017, we became convinced of the need to have a proactive presence in North America. Composite Automation, LLC is laser-focused on our markets and deeply understands the challenges manufacturers face when automating their composite production. John – a warm welcome to the team!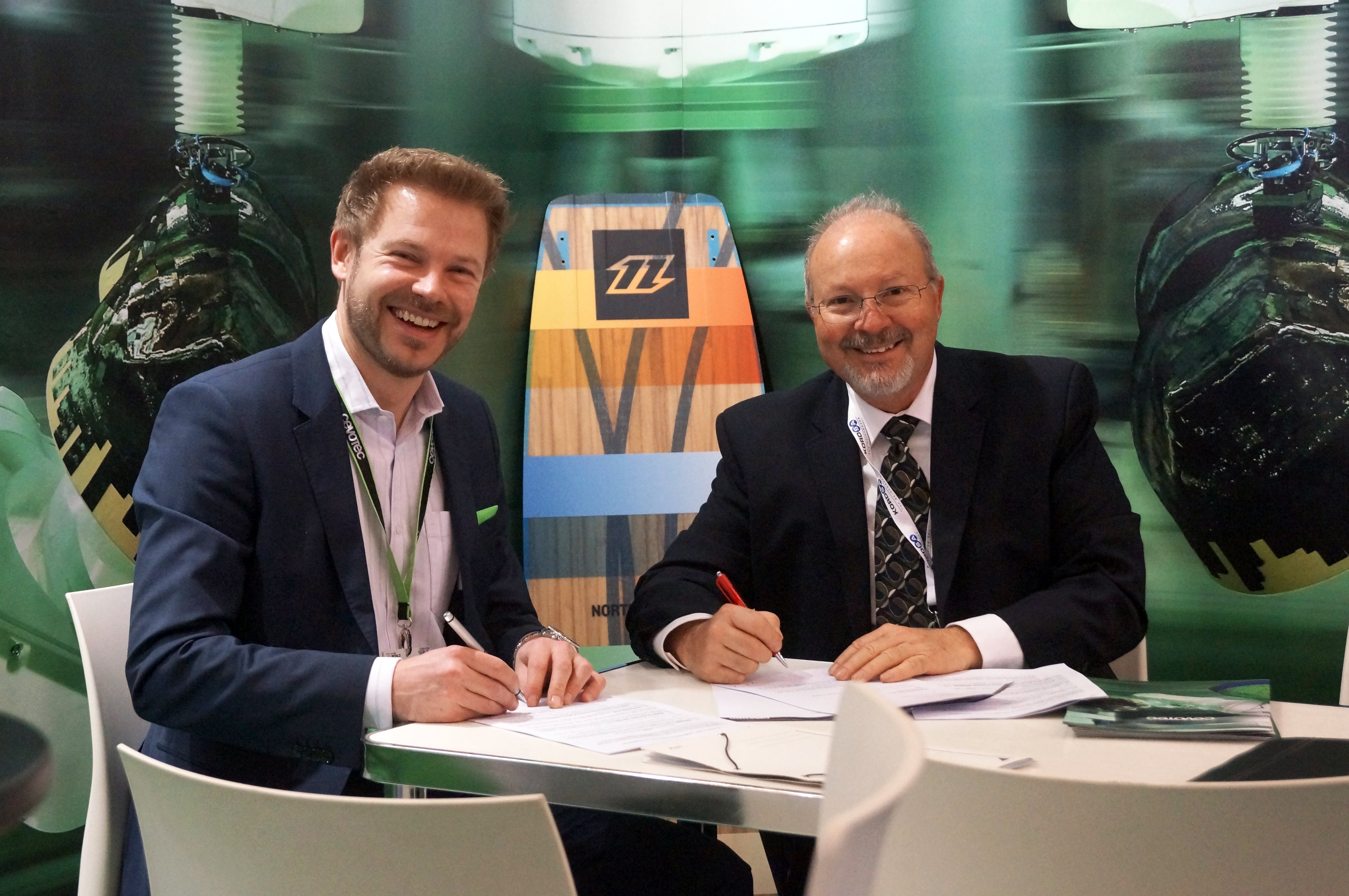 From the press box
You might have noticed the post on our Facebook page. Otherwise, here's a link an extended cevoStory on the Composites World Blog!
Not less impressing is the list of cevoNews on Inside Composites. You find even more in our online press box and our latest press releases.
See you around?
The beginning of 2018 was full of events. For example, we pitched at the 7. Fachkongress. Composite Simulation in Augsburg and presented Fiber Patch Placement at the 23. National SAMPE Symposium in Kaiserslautern. And of course, as usual in March, we exhibited at JEC World in Paris. We are looking forward to meeting you at the following events and conferences:
1. MAI Night 2018
April 12, 2018
Munich, Germany
ILA Future Lab
April 25 – 29, 2018
Berlin, Germany
12th CFK Valley Convention
June 12 – 13, 2018
Stade, Germany
Composites Innovation 2018
June 20 – 21, 2018
Nottingham, United Kingdom
Symposium Composites
September 19 – 20, 2018
Augsburg, Germany
Advanced Engineering 2018
October 31 – November 01,
2018 Birmingham, United Kingdom
Composites Europe
November 06 – 08, 2018
Stuttgart, Deutschland
Thank you for having spent some time with us
It was a pleasure to look back on the last months together with you. You think that information about Fiber Patch Placement is also relevant for your colleagues and business partners? Please do not hesitate to forward the newsletter!
Have a wonderful Easter break!
Your Cevotec-Team
More information about products & services, press clippings or job offers can be found on our homepage.
Copyright © 2018 Cevotec GmbH
You receive this email because you've either actively subscribed to our newsletter or explicitly consented to receive our mailings. Data protection has a high priority at Cevotec. Your personal information is safe with us. Please read details on how we protect your data in our Privacy Policy. Every email from us includes an unsubscribe link. You can also contact us directly at advantages@cevotec.com.