SAMBA in rolling motion, homogenous thickness of laminates, and more FPP news
Dear friends of Fiber Patch Placement,
Who would have thought what a difference a year makes. Or not. While Corona is unfortunately still dominating our daily lives and restricting us from "business as usual" in many ways, we continue to make the best of the situation at hand. We consider ourselves incredibly lucky to be as busy as before in bringing Fiber Patch Placement technology to the advanced composites manufacturing community.
While working on three SAMBA system assemblies for our customers, in Q1 2021 we also embarked on a larger application development project for advanced automated multi-material placement with a team of strong R&D partners, supported by a grant of the German Federal Ministry of Economics. In addition, we continue to add important features to our robotic systems as well as to our laminate design software. And we are pleased to observe increased awareness of Fiber Patch Placement: FPP is now officially referenced in Wikipedia. For even more information, just read on.
Your Cevotec-Team
Contact
+49 89 2314 165 0
advantages@cevotec.com
Technology
Caught in the act: SAMBA in rolling motion
The regular readers of our newsletter know: We "trained" the penultimate axis of our SAMBA robot to perform a rolling motion around the placement point to support the placement of larger patches on strongly curved surfaces.
Now a large gripper can apply an A4-sized patch gently and precisely on a highly curved surface. Based on the curvature of the surface, the best contact curve is automatically calculated by the FPP-specific ARTIST STUDIO software. This reliably prevents placement defects.
Technology
New ARTIST STUDIO feature: Thickness visualization tool
Our ARTIST STUDIO CAD/CAM software suite is the backbone of every SAMBA robot movement – and is continuously improving based on valuable feedback we receive from our customers. The latest feature: the thickness visualization tool. It enables us to create thickness plots directly from within ARTIST STUDIO's PATCH ARTIST module with unprecedented accuracy (< 0.1 mm), usually within only a couple of minutes and with just a single mouse click. This gives engineers a powerful tool at hand for designing laminates with a homogenous thickness despite the characteristic overlap / gap distribution of patch laminates.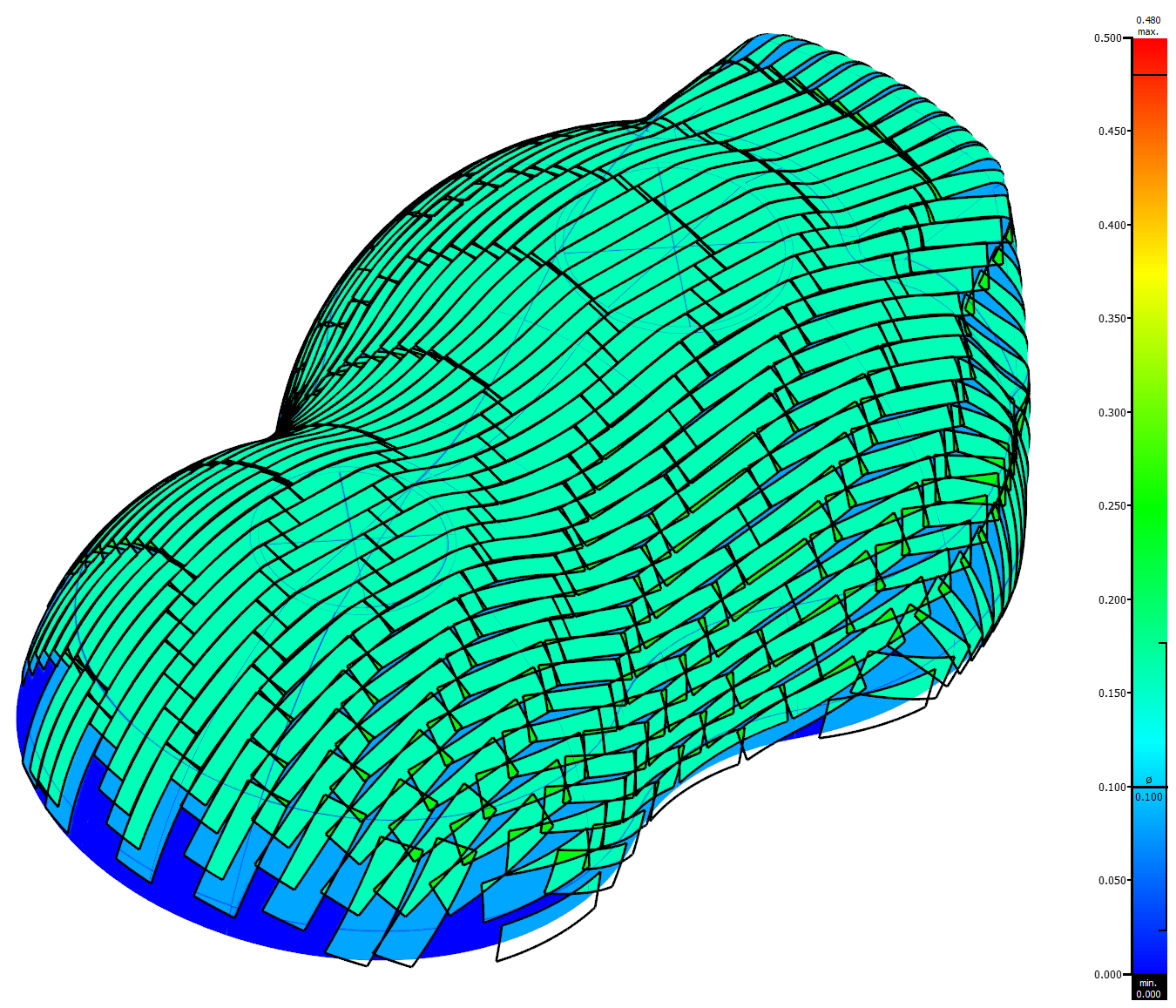 Open positions
Wanted: Technical Marketing & Business Development Manager
Cevotec continues to grow!
Currently we are looking for a Technical Marketing & Business Development Engineer (m/w/d). Ideal candidates have an engineering background combined with a solid understanding of how to bring high-tech to market. In this position, you work closely with management, development and sales in order to define & implement our commercial strategy.
Sounds interesting to you or for a friend of yours?
Check our detailed job posting on our careers page.
Company news
Spot on: FPP on Wikipedia
Since February, the free online encyclopedia Wikipedia lists German and English articles on Fiber Patch Placement. A small step for our technology team, but a big leap in establishing FPP as a global composite processing standard.
Events
See you around?
As another wave of emails announcing trade shows postponements just passed through our inboxes, face-to-face events will certainly not be possible until summer. As much as we would like to meet-up again in person, we don't want to hear about digital fatigue. We continue to reach out via digital platforms in Q2, following some first successful digital gigs in the first quarter. We presented our FPP doily reinforcement solution for high pressure vessels at the Composites United Theme Day "Hydrogen storage – opportunities for fiber composites" (19.1.) and reflected on general FPP technology advancement at the 26th National SAMPE Symposium 2021 (9.2.). The audience's interest was remarkable. Interested aerostructure manufacturers also got in touch with us at B2B events like the Aeronautics & Space Innovative Technology Summit (AITS) Bremen (23.-25.2.).
In case, you missed us: here are more opportunities to connect digitally and inform yourself about latest FPP and Cevotec developments.
H2 Forum 2021 – Virtual European Hydrogen Conference
April 27 – 28, 2021
Virtual conference & B2B
ACMA Composites Industrial Revolution Conference 2021
May 4 – 6, 2021
Virtual conference
May 4, 12:50 pm-1:15 pm EST: Thorsten Groene presents on "Closing the Gap in Lay-up Automation for High-performance, Multi-material Aerostructures"
Composites World Hydrogen Tech Day
May 18, 2021, 10:30 am to 1:00 pm EDT / 4:30 to 7:00 pm CET
Cevotec will present on FPP Doily Reinforcements as a solution to increase material efficiency in the production of pressure vessels
World Composites Week
May 26 – 27, 2021
Virtual conference & B2B
JEC Composites CONNECT
June 1 – 2, 2021
Virtual event
LightCon
October 6 – 7, 2021
Hannover, Germany
CAMX 2021
October 19 – 21, 2021
Dallas, Texas
Composites Meetings
November 17 – 16, 2021
Nantes, France
11. Aviation Forum
December 7 – 8, 2021
Hamburg, Germany
From the press
Our press clippings are always worth a visit, but don't miss out on our blog. Here you can find recent news and check media's interest. In particular, our release on "NIAR's ATLAS lab to install SAMBA Pro system in 2021"  hauled some widespread media attention. We are also very excited about this!
Thank you for spending some time with us
As always, we are happy to share cevoNews with you! And we continue to push ahead. So stay tuned for the next issue …
We wish you lots of strength and health these days! 
Your Cevotec-Team
You think that information about Fiber Patch Placement is also relevant for your colleagues and business partners? Here's the link to our subscription page, or just forward the newsletter.
Copyright © 2021 Cevotec GmbH
You receive this email because you've either actively subscribed to our newsletter or explicitly consented to receive our mailings. Data protection has a high priority at Cevotec. Your personal information is safe with us. Please read details on how we protect your data in our Privacy Policy. Every email from us includes an unsubscribe link. You can also contact us directly at advantages@cevotec.com.