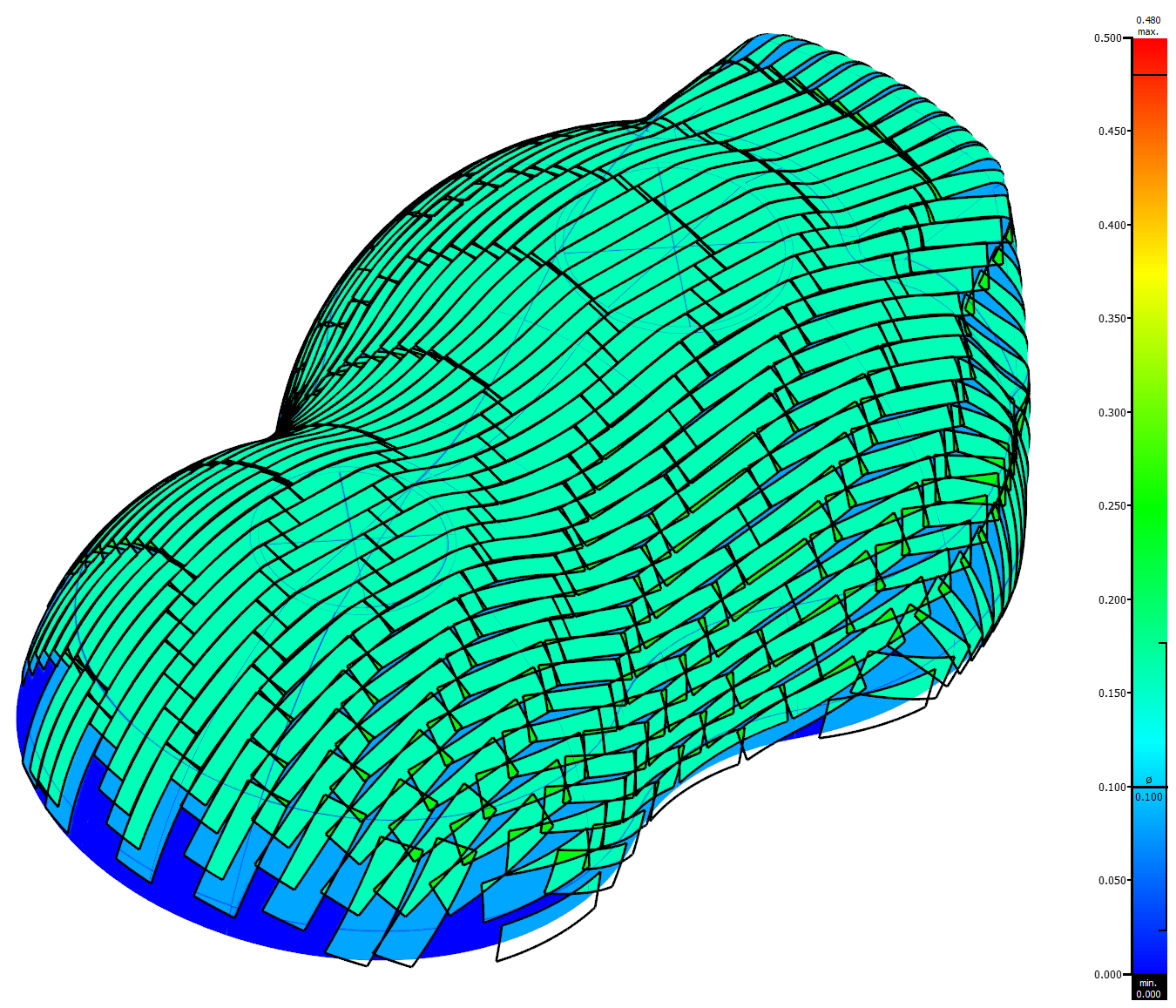 Precise visualization of laminate thickness distribution
We greatly appreciate the feedback that we receive on our products. Often times, our customers inspire us with innovative ideas for new features or they apply our products in brilliant new ways that we hadn't previously anticipated. One such feature that was heavily influenced by customer interaction is ARTIST STUDIO's new thickness distribution plot tool.
With our software module PATCH ARTIST, we initially focused on the creation of thin structural laminates with curvilinear reinforcements. Overlaps between patches are algorithmically optimized for best mechanical performance. Such layers will certainly remain the backbone of our FPP laminates, but we've seen an increasing demand for tailored and more complex patching patterns This includes (but is not limited to) laminates with no-gap/minimal-overlap patterns and complex rotational patterns for pressure vessels with large variations in thickness.
These applications usually have two requirements in common: a precise prediction of the final patch shape, accompanied by dedicated analysis tools to check the outcome. We already tackled the first issue with a new draping feature that was presented last year, enabling a superior approximation of patch shapes even on complex surfaces. For the latter, we are proud to introduce to you our brand new thickness distribution tool!
Calculation and visualization of the laminate thickness distribution was previously realized with the help of Cevotec's ARTIST STUDIO HyperMesh plugin for FEA modelling. This, from now on, will be replaced by our new and fully integrated Thickness Distribution tool. It enables users to create thickness plots directly from within ARTIST STUDIO's PATCH ARTIST module with unprecedented accuracy (< 0.1 mm), usually within only a couple of minutes and with just a single mouse click. Making it now easier than ever for laminate designers to visualize and improve their ideas.
The feature is available immediately to all ARTIST STUDIO users. In the course of this year, a function will be activated that considers the thickness offset already during the creation phase of the laminate.
Stay with us for updates!
About Cevotec:
Munich-based automation specialist Cevotec offers one of the world's most advanced production systems for complex fiber composites. At the intersection of composites, mechanical engineering and software, Cevotec develops production systems and software based on Fiber Patch Placement (FPP) technology: SAMBA and ARTIST STUDIO. The systems, which are particularly suited for automated fiber placement on complex 3D geometries, process carbon fibers, glass fibers, adhesive films and other technical fibers. They can be used for a broad range of applications. Such flexibility is particularly appreciated by customers from aerospace and med-tech industries, who realize cost and time savings of 20%-60% when switching from manual processes to FPP.