Spotlight on process & technology advancements
Dear friends of Fiber Patch Placement,
The Corona crisis is a hard blow for all of us. While the situation has stabilized at least in the Munich area, our team has adjusted to the "new normal" and is busily working on process and technology advancements in our new and enlarged cevoLab. Especially our customers that focus on next-generation, green mobility solutions show a similar level of high activity, starting new projects for FPP application development with us these days. This confirms the importance of automated lightweight production for CO2 neutrality.
In this newsletter you can learn about our latest FPP process advancements: Ply-based lay-up on sandwich cores combined with patch placement for monolithic areas in one automated process! In our technology section, we focus on ARTIST STUDIO – the FPP-specific CAD-CAM software – and the benefits that an integrated, technology-specific software brings along. We also present a new feature: local adjustment of individual patch positions.
We also take a cautious outlook on potential events in H2 2020. And we are still growing our production technology, software and sales teams – for which we have open positions to fill.
Stay healthy and enjoy your read!
Your Cevotec-Team
Contact
+49 89 2314 165 0
advantages@cevotec.com
Application
Integrated lay-up process for sandwich structures with monolithic areas
Certain components for aircrafts require exclusively non-electrically conductive materials to prevent the electromagnetic sensors from interference, ensuring a clear, strong signal transmission. This is particularly important for unmanned aerial vehicles (UAV's) and urban air mobility (UAM's) concepts with an increased number of sensors, but of course it also plays a significant role in any commercial or military aircraft. The majority of these parts consist of a thin skin of glass fibers on top of a non-metallic core in combination with monolithic areas where mechanical connectors and fasteners are placed. This constructs a very lightweight yet stiff sandwich architecture that enables electromagnetic transmission. Yet a challenge remains: due to the design and composition of the parts, the production is usually still manual.
Cevotec has implemented an integrated, fully automated process – based on the Fiber Patch Placement technology – for producing sandwich components with monolithic areas – without any equipment adjustments during the processl.
Technology
The perfect symphony of two Artists
The ARTIST STUDIO suite was developed with one objective in mind: enable users to develop complex fiber laminates from idea to production in the shortest time possible. It features two integrated modules: PATCH ARTIST (the CAD module) and MOTION ARTIST (the CAM module), creating a perfect symphony that optimally support engineers in the creation of laminates and the subsequent machine data to produce them fully automated. A key benefit is the seamless integration for easy data exchange. If design changes are requested, modifications can be made in PATCH ARTIST and only affected Patches will be updated in MOTION ARTIST.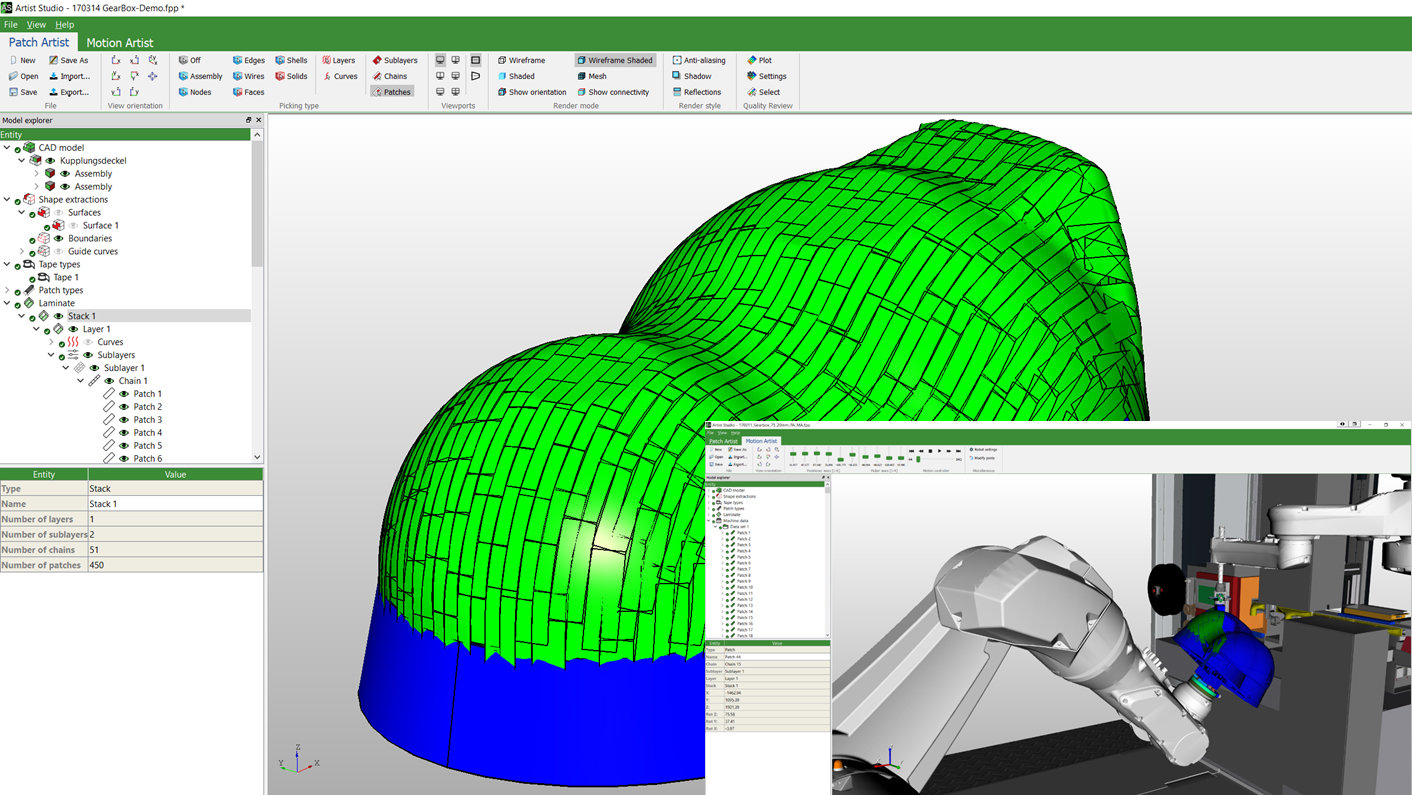 Technology
Local adjustment of patch positions
FPP laminates can consist of several thousand patches whose positions are automatically optimized to achieve an optimal overlap of patches. However, in some cases, it is still necessary to manually adjust patch positions. Previously, manual movements were restricted to discrete positions along the base curve that was originally used to create the patches – moving all the patches belonging to the same curve simultaneously. In ARTIST STUDIO 1.3 we will introduce a new feature, enabling our users to freely and interactively move individual patches on the surface of the part – with full draping support and in real time. This increases the flexibility in laminate design to a level previously unknown in the world of composites.

Comany news
Cevotec is growing and hiring
The move to our new headquarter is now completed. Especially our cevoLab, the FPP Competence Center near Munich, is significantly expanded, giving more space to work on innovative automation concepts for complex composite applicationss. And we pressed the record button during the move – click below to see our SAMBA systems floating to their new home!
Despite the Corona slowdown, our growth continues and we are looking for experienced engineers to join our software, production technology, and technical sales teams. Check out our vacancies and support your friends who might be looking new professional opportunities by forwarding this newsletter to them.
Events
See you around?
As Corona still restricts events and travel significantly, personal meetings have mainly turned into virtual meetings. And today's communication technology facilitates even more.
We will participate at the virtual CAMX show in September and look forward to meeting you via camera & screen. Depending on the further development, a few events are still in our event calendar for later half of 2020:
SAMPE Europe Conference 20 Amsterdam
Presentation: "Pushing the automation for multi-material aerostructures"
September 30 – October 01, 2020
Beurs van Berlage – Amsterdam, Netherlands
Hybrid event – Amsterdam, Netherlands, plus online transmission & conference
Aviation Forum Hamburg
Exhibition hall Booth E20
Tech Talk presentation: "Pushing automation for next-generation aerostructures"
November 17 – 18, 2020
Hamburg, Germany
Prefer to stay fully virtual? No problem. Our CTO Felix Michl is offering free video consultations on automation with Fiber Patch Placement. Schedule your personal virtual meeting to learn more about available options and discuss specific applications that are relevant to you.
Leverage this period toyour advantage and create new options for your future composites production!
From the press
You read about scaling up SAMBA in our previous newsletters. Also, the press showed vivid interest! Check out our press area and read the latest FPP articles. Just recently released, CompositesWorld's article on the importance of composites 4.0 for formula 1 explains how FPP supports the democratization of technology in motorsport.
Thank you for spending some time with us
We enjoyed sharing the latest FPP developments with you. The next months will be full of interesting projects. Stay tuned to be first to learn more in our September newsletter.
You think that information about Fiber Patch Placement is also relevant for your colleagues and business partners? Here's the link to our subscription page, or just forward the newsletter.
Above all: stay healthy & positive!
Your Team Cevotec
Copyright © 2020 Cevotec GmbH
You receive this email because you've either actively subscribed to our newsletter or explicitly consented to receive our mailings. Data protection has a high priority at Cevotec. Your personal information is safe with us. Please read details on how we protect your data in our Privacy Policy. Every email from us includes an unsubscribe link. You can also contact us directly at advantages@cevotec.com.