FPP: A technology cornerstone of green mobility 
Dear friends of Fiber Patch Placement,
The Corona crisis has caused some significant changes for everyone this year. While we at Cevotec usually embrace change, this past summer, we preferred to focus on the constant: We continued our efforts to make Fiber Patch Placement a technology cornerstone of green mobility.
We have observed several announcements for changes with a significant impact. Two examples: The German government published their national hydrogen strategy, with the objective to guide and support industry's efforts to develop hydrogen as a CO2-neutral, alternative power source for many applications across industries. We at Cevotec already contribute to the power revolution by making H2 storage tanks lighter and better.
CO2 neutrality and hydrogen are also the cornerstones of Airbus' ZEROe initiative, which aims at launching a H2-powered, composites-enabled commercial aircraft by 2035. Manufacturers worldwide already work with us today to develop automated lay-up processes with Fiber Patch Placement for those next-generation aerostructures to come.
Another change relates to our own company. Dr. Neven Majic, co-founder and EVP of Cevotec, left the company to accept a professorship at the Augsburg University of Applied Sciences. While certainly missing him at Cevotec, we are looking forward to new R&D collaborations with him and Augsburg University. At the same time, we've also grown the team with new colleagues.
Stay healthy and enjoy your read!
Your Cevotec-Team
Contact
+49 89 2314 165 0
advantages@cevotec.com
Company news
Dr. NevenMajic takes on professorship at Augsburg University of Applied Sciences
End of August, Dr. Neven Majic, co-founder of Cevotec and member of the executive management, left the company to accept a professorship in the field of composites and lightweight design at the Augsburg University of Applied Sciences.
This led to a restructuring of teams and leadership at Cevotec. Since July 2020, Dr. Marek Wieckowski is leading the software development of Cevotec. The application development is now headed by Dr. Dimitrios Sikoutris, whom you probably already know if you were engaged in project work with us. In addition, there is a vacancy for an experienced production technology manager, leading the team responsible for the further development of FPP production systems.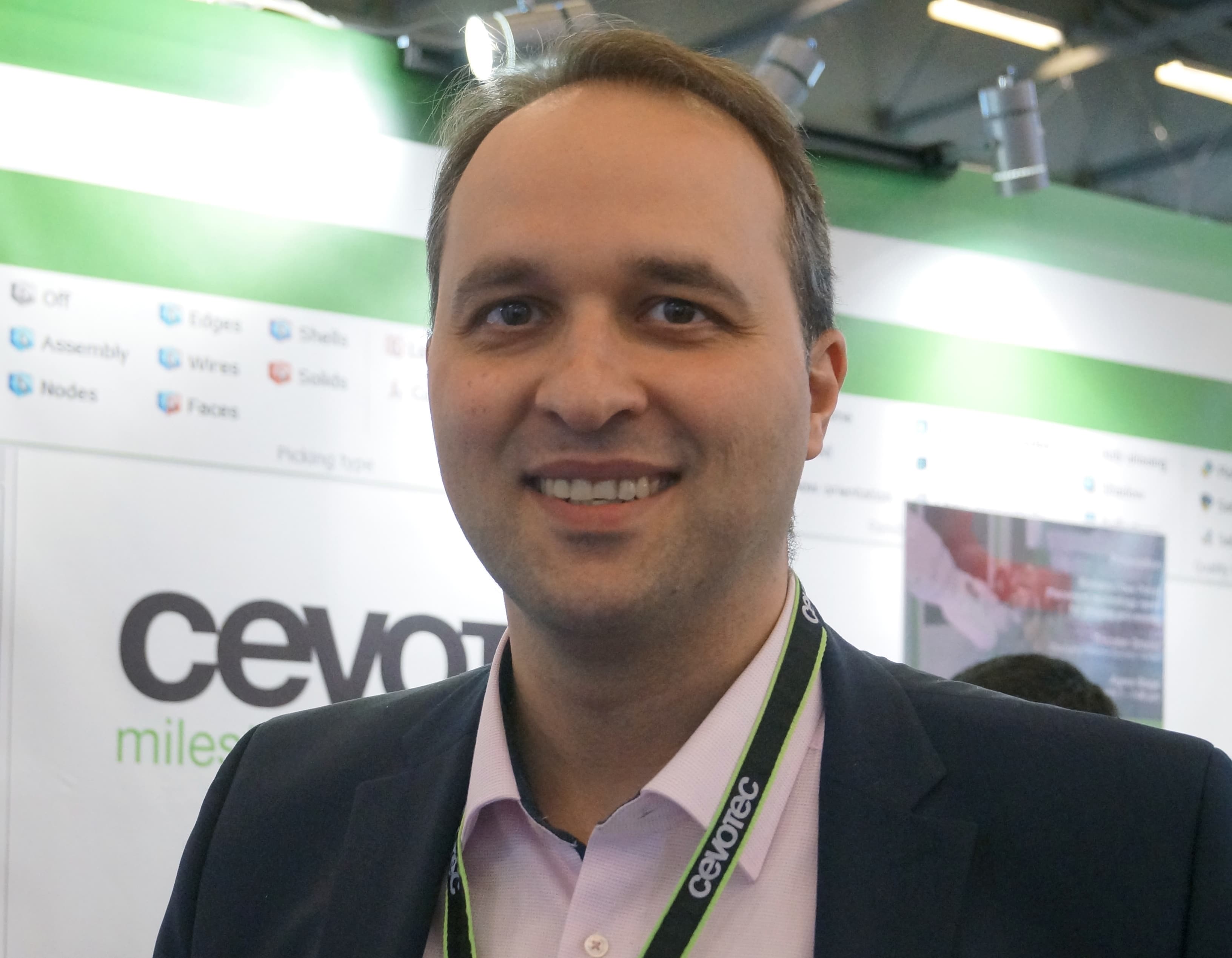 Company news
New to the team
We are happy to welcome two new colleagues to the cevoTeam. Dr. Marek Wieckowski leads our software technology. Like all of us, he is convinced that together we will change the global landscape of automated production of complex fiber laminates – our ARTIST STUDIO software is an important foundation for that.
David Woods takes responsibility for the development of our SAMBA systems. David loves to shape things from the ground up and is always on the move – and this will certainly have a very positive effect on the beat to which our SAMBA systems will dance in the future.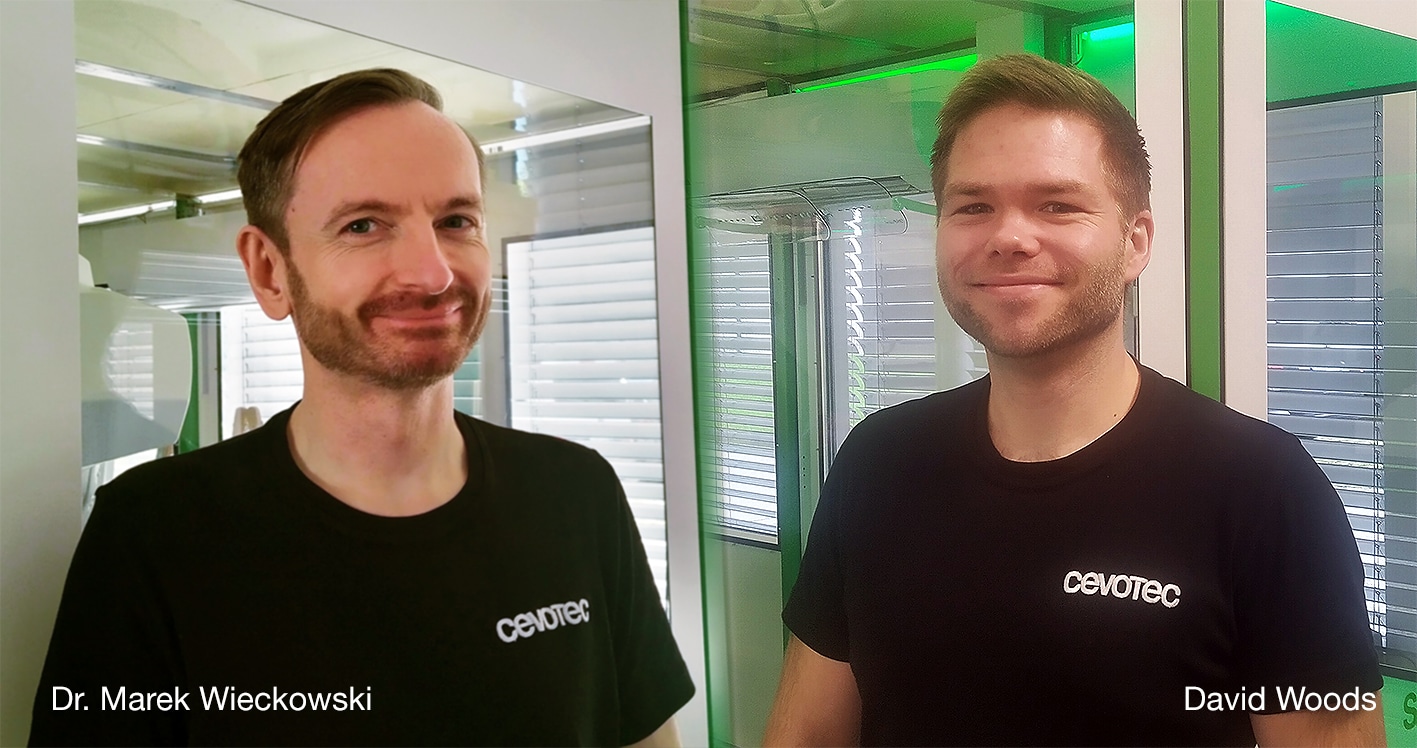 Application
Multi-material ply placement
In addition to new propulsion technologies, it's in particular lightweight construction that will play a major role in new aerospace programs triggered by green initiatives like Airbus ZEROe. Automation is key to a widespread use of high-performance composites in next generation aerostructures, in particular when higher volumes are needed for e.g. single-aisle medium-range aircrafts. As of today, multi-material composite structures like fairings, radomes, nacelles, control surfaces still require a lot of manual work steps in fabrication. Fiber Patch Placement technology offers new automation options for all materials in the stack. It's the technology for the next generation of composites aerostructures.

Application
Tailored dome reinforcements for hydrogen tanks
Our approach to save up to 20% time, material and cost in building composite pressure vessels continues to spark a high degree of interest – in particular following the release of the German national hydrogen strategy. By using FPP dome reinforcements, manufacturers need less material in the subsequent filament winding process. The patches are designed to precisely cover the areas causing problems in filament winding and can be adapted to different tank designs and winding strategies.
In a first step, Cevotec's SAMBA FPP systems place the reinforcing fiber patches around the dome area directly on the liner. Then the patched liners are passed over to an adjusted filament winding process, which consumes less material, and is therefore shorter and cheaper. This, in turn, frees up capacity to increase the volume of tanks produced on one winding line. We call that a win-win-win situation.

Events
Digital demos & virtual presentations
Events have become digital – and very focused! We had a great webinar on "Additive Manufacturing with disparate Materials using Cevotec's Fiber Patch Placement Technology", hosted by John Mellili from our partner Composite Automation.
In case you missed the webinar, you'll find similar content in our Digital Demo "Next-generation automation for high-performance composites fabrication", that we launched on the Composites World media platform. Discover the capabilities and advantages of Fiber Patch Placement for different applications, so that you can expand your process toolbox for the development of your next generation composite component.
Digital Demo on Composites World
Events
See you around?
Additional events with active Cevotec participation are on schedule – under reservation of further COVID19 developments. While our presentation at the SAMPE Conference in Amsterdam, end of September, was converted into a virtual event, we are still looking forward to meeting key players in the aerospace industry at the Hamburg Aviation Forum in November:
Aviation Forum Hamburg
Hamburg Fairground, hall A1, booth M7 
Tech Talk presentation: "Pushing automation for next-generation aerostructures"
November 17 – 18, 2020
Hamburg, Germany
In case you prefer to stay fully virtual: we offer free video consultations on automation with Fiber Patch Placement. Our CTO Felix Michl is looking forward to inform you about available options and discuss specific applications that are relevant to you.
From the press
In case you didn't read the latest news from the press about Fiber Patch Placement, check out our press clipping.
Thank you for spending some time with us
We hope you liked our FPP fall update. If you have application ideas in mind, please reach out and let's start planning for projects in 2021.
You think that information about Fiber Patch Placement is also relevant for your colleagues and business partners? Here's the link to our subscription page, or just forward the newsletter.
Above all: stay healthy & keep innovating!
Your Team Cevotec
Copyright © 2020 Cevotec GmbH
You receive this email because you've either actively subscribed to our newsletter or explicitly consented to receive our mailings. Data protection has a high priority at Cevotec. Your personal information is safe with us. Please read details on how we protect your data in our Privacy Policy. Every email from us includes an unsubscribe link. You can also contact us directly at advantages@cevotec.com.