Sensors for SAMBA, new features for ARTIST STUDIO, and a hot fall filled with events
Dear friends of Fiber Patch Placement,
After a hot summer filled with lots of R&D, we are pleased to share the latest developments in Fiber Patch Placement technology with you at the key composites events of this fall and winter. As always, you as a newsletter subscriber get the preview first and first-hand: You'll read about the benefits of the extensive sensor technology that is integrated in all systems of the SAMBA Series, providing continuous process monitoring. In addition, new features of our ARTIST STUDIO software enable combined FPP and AFP laminate design and a plug-in for HyperMesh supports engineers with structural analyses of patch laminates. For our readers in the automotive industry, we'll also share ideas for intelligent, hybrid light-weighting at low cost and high volumes.
Enjoy your read!
Your Team Cevotec
Contact
+49 89 2314 165 0
advantages@cevotec.com
SAMBAs sensors: 100% raw material inspection saves effort at final quality check
"Produce quality instead of checking for quality" – simply put, this is the concept behind the smart sensor technology of our SAMBA systems. Particularly in aerospace, an industry that does not forgive manufacturing mistakes, composite parts produced in semi-automated processes are subject to individual unit tests and quality controls to ensure specification compliance and therefore a maximum degree of flight safety. Working with Fiber Patch Placement, sensors of the production system monitor key parameters of the production process: from the material feed and cutting the patches to pressure-controlled fiber deposition. A key element: a special vision system that checks each individual patch for quality and dimensional accuracy before further processing in order to guarantee that 100% of the input material is according to specifications. This reduces the required effort for the final inspection enormously and lowers the non-pass rate of produced parts.
Production data are analyzed and compared with a database of previously processed patches. Deviations can be promptly detected and appropriate corrective measures can be taken. The system becomes more intelligent with each patch processed in the database. On the basis of this data, process tolerance specifications can be minimized, which in turn guarantees a consistently high placement quality. The time and cost required for single unit tests are significantly reduced.
Learn more about our SAMBA production systems or contact us for a personal consultation!
ARTIST STUDIO's new features: complete digital process chain & TAPE ARTIST
Presented as sneak previews in our previous newsletter, the new features of our ARTIST STUDIO software go live this fall! We have finalized a plug-in for the modeling software HyperMesh, one of the leading FEA preprocessors. Based on the data defined in PATCH ARTIST regarding geometry, position and alignment of the patches, the ARTIST STUDIO plug-in automatically generates a detailed image of the patch laminate in HyperMesh. The contour of each individual patch is used to model fiber orientations and overlap areas. Ply-based shell models as well as solid and cohesive zone models can be used for analysis, which can be performed on both sublayer and patch level.
In addition, the new ARTIST STUDIO module TAPE ARTIST provides all functions for efficient laminate design with endless fiber tapes for AFP processes. If desired, laminate planning for AFP can also be combined with FPP. Seamlessly integrated into the software platform, TAPE ARTIST also uses the MOTION ARTIST module to simulate processes and generate robot data for the production system.
ARTIST STUDIO can be viewed and tested live at our upcoming Events – of course, we are also happy to demo the software in a personal consultation with you.
Learn more about our ARTIST STUDIO software or contact us for a personal consultation.
Light-weighting the automotive way: tailored fiber reinforcements on metal
It is common in the automotive industry to use one car body for different models of a car series. Because such a body can only be optimized for one of the models, modifications of the body are usually needed for the more powerful models of the series, requiring additional equipment and forming tools which is synonymous with an increase in costs. A cost-effective and simple alternative is to reinforce critical elements of the existing body with carbon fibers. With the current 7 Series model, whose passenger cell contains a so-called "carbon core", BMW has already shown how this concept works: critical structural elements such as the A, B and C pillars or the roof feature a material mix of metals and reinforcing fibers.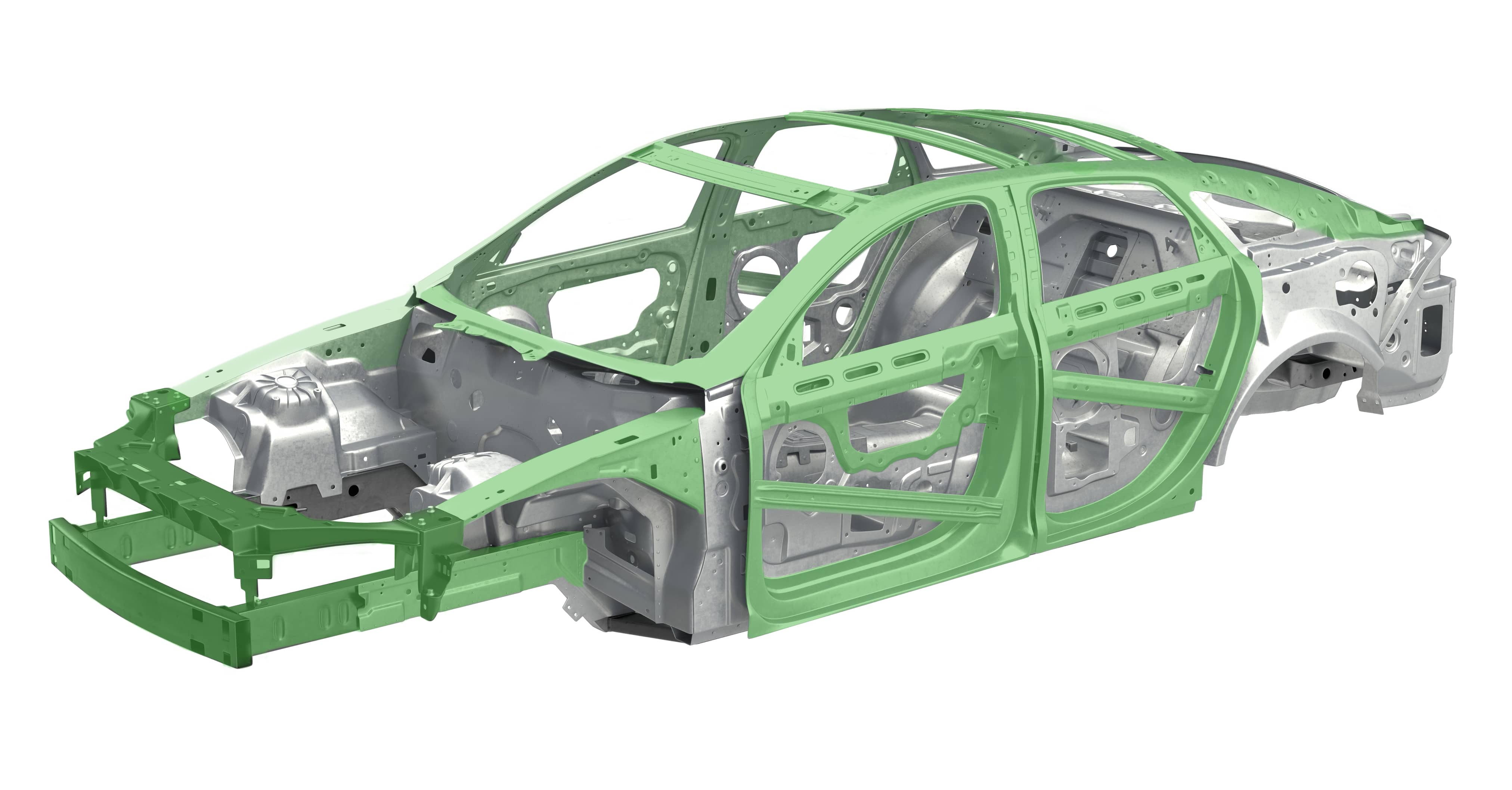 For these kind of applications, Fiber Patch Placement represents a new and efficient option. Additively applying the reinforcement patches directly onto the components, our SAMBA systems can strengthen key elements of the body without the need to change or expand existing metal tools. During the digital product development process, the critical areas are identified and analyzed in an FE simulation. This is the basis for calculating the patch positions, fiber orientations and local laminate thickness to achieve the desired component properties.
In the production process, our SAMBA systems can precisely position the patches on metal parts. If necessary, a second, parallel material feed of the SAMBA Multi system can provide insulating material e.g. for preventing contact corrosion. The curing of the fiber composites, critical regarding automotive cycle times, is accelerated by using the thermal energy from production. Fiber Patch Placement thus offers a unique potential for simplifying the production of special body variants and works economically both in high-and low-volume settings.
Contact us for a personal consultation.
Opening of SGL Carbon Fibre Placement Centre
On September 17, SGL Carbon and Fraunhofer IGCV officially celebrated the opening of their joint Fiber Placement Centers (FPC) with around 150 guests of politics, science and industry. Among them: Cevotec. Together with the Institute for Carbon Composites at the Technical University of Munich and Coriolis Group, we will come on board as partners. In 2019, a Fiber Patch Placement production system will be installed at the FPC campus at SGL in Meitingen, enabling FPC to develop new applications with customers and partners.
We will report more about the new R&D opportunities for our customers that this partnership brings along.
From the press
Following our last newsletter, Composites World has published a feature about Cevotec extending the Fiber Patch Placement technology to sandwich and large aerospace structures. And – just in time for the automotive-focused Composite Europe show – the Industrieanzeiger features our automotive body reinforcement concept both in their print and online pages.
Review: Trade shows and conferences
This fall our experts travel the world to introduce Fiber Patch Placement to the professional public at trade fairs and conferences.
So, Chris Fleischfresser made SAMBA dance for Composites in Sport as he talked in Loughborough, UK about flexible automation for CFRP manufacturers in the sports industry. Certainly, composites have been used extensively in sports equipment for several years, but the use of more expensive materials, such as carbon fiber, has been restricted to premium segments. The reason: producing the complex forms ubiquitous in sports equipment still heavily relies on manual layup, which is done mainly in Asia these days. This translates into long lead times, elevated scrap rates, frequent quality variation, and high transaction costs – characteristics which do not align with the requirements of the innovation-driven sports industry. Manufacturers call for repeatability, the flexibility to cope with different part variants and designs, fast innovation cycles, great looking parts and low costs, all of this ideally realized close to end consumer markets. And this is exactly what Cevotec has set out to deliver …
At GOCarbon Fibre in Berlin, Germany, Dr. Neven Majic was among this year's high caliber speakers giving a comprehensive update on the industry's development. Talking about automated manufacturing of complex composites for new applications in aerospace based on Fiber Patch Placement technology, Dr. Majic explained how FPP as state-of-the-art technology helps to tackle the challenges in production of complex composites. Particularly the technology's potential for the multi-material-design of complex sandwich components, as commonly found in aerospace, aroused interest among the audience. As our software expert, Dr. Majic put his special emphasis on the virtual process chain as key enabler for patch-based composites. As virtual product development is crucial for the entire industry, our technology-specific CAD-CAM software ARTIST STUDIO opens up exciting perspectives for complex carbon fiber structures in all relevant areas.
At CAMX, the Composites and Advanced Materials Expo held this year in Dallas, Texas, Felix Michl presented automated fiber layup concepts based on Fiber Patch Placement technology to the interested US audience. In the CAMX educational session, he introduced Fiber Patch Placement as the ground breaking new approach to automate the fiber layup for complex CFRP components for a broad range of production settings. The scalability and the capability to process multiple materials simultaneously (among them ½ inch pregtow material, residuals from AFP processes) ignited high interest. Also, the explanations about how our comprehensive CAE software suite ARTIST STUDIO significantly facilitates and speeds up the product development process impressed the audience.
See you around?
We are looking forward to meeting you at the following events and conferences:
Advanced Engineering 2018
October 31 – November 01, 2018
Birmingham, United Kingdom
Booth N86
4th International Composites Congress (ICC)
November 05, 2018
Stuttgart, Deutschland
Speaker
Composites Europe
November 06 – 08, 2018
Stuttgart, Deutschland
Booth E60E, Hall 9
JEC Asia 2018
November 14 – 16, 2018
Coex, Seoul, Republic of Korea
Speaking on November 16
AIRTEC 2018
November 20 – 22, 2018
Munich, Germany
Speaking on November 21
Carbon Fiber 2018
December 04 – 06, 2018
San Diego, CA United States of America
Our US partner Composite Automation speaking on December 6
Thank you for spending some time with us
It was a pleasure to look back on the last months together with you. You think that information about Fiber Patch Placement is also relevant for your colleagues and business partners? Please do not hesitate to forward the newsletter – here's the link to our subscription page.
Best
Your Cevotec-Team
More information about products & services, press clippings or job offers can be found on our homepage.
Copyright © 2018 Cevotec GmbH
You receive this email because you've either actively subscribed to our newsletter or explicitly consented to receive our mailings. Data protection has a high priority at Cevotec. Your personal information is safe with us. Please read details on how we protect your data in our Privacy Policy. Every email from us includes an unsubscribe link. You can also contact us directly at advantages@cevotec.com.