SAMBA Multi, TAPE ARTIST and lessons learned on spread tow tapes …
Dear friends of Fiber Patch Placement,
With summer in full swing, you receive our 2nd newsletter 2018, again filled with technology updates and news about Cevotec: Our engineers have developed the brand-new SAMBA Multi concept and are currently adding a module for AFP processes to ARTIST STUDIO. In addition, we are working with our customers from aerospace, automotive and the medical sector on several projects to develop further applications for FiberPatch Placement. And for your reading pleasure during your summer vacation, we provide you with our new whitepaper on Spread Tow Tapes.
Enjoy your read!
Your Team Cevotec
Contact
+49 89 2314 165 0
advantages@cevotec.com
SAMBA Multi
Automated multi-material layup for aerospace sandwich components
In close cooperation with leading manufacturers of aerospace components, we further developed the patch placement concept according to industry-specific requirements. We were particularly interested in sandwich components with their sophisticated material mixes, such as adhesive foils, glass and carbon fiber. These different materials are used to improve the adhesion and compatibility of carbon fiber material and the often-used aluminum honeycomb core. We have conceptualized a new production cell for the automated processing of this special multi-material mix: SAMBA Multi has parallel feeding units for different materials that are processed in one production system and placed precisely on 3D sandwich cores. By mounting the Fiber Patch Placement unit on a linear axis, the concept also enables the production of long or wide components in aerospace applications. Adapted to specific component sizes, we also scaled the patch grippers to DIN-A5 and DIN-A4 size to meet the requirements of common aircraft components. An integrated gripper station enables the exchange of grippers in the process.
Here is a sneak-preview of what SAMBA Multi looks like:
Is this interesting for you? Visit us at the next events or book a personal consultation!
TAPE ARTIST
ARTIST STUDIO takes on the design of tape laminates for AFP processes
Some of our customers, using both FPP and AFP processes, asked us whether laminate planning for FPP and AFP can be combined in ARTIST STUDIO. Our answer: yes, it can be combined! Currently we are extending ARTIST STUDIO by the relevant features for laminate design with endless fiber tapes as used in AFP processes. Seamlessly integrated into ARTIST STUDIO, the new module TAPE ARTIST will also use MOTION ARTIST for machine data generation and process simulation. TAPE ARTIST can also be combined with PATCH ARTIST to one joint module, enabling engineers to design integrated laminates based on AFP and FPP technology. We are looking forward to the first projects in which our patch robots dance samba with AFP heads! The module will be launched at the Composite Europe and will be available towards the end of the year.
New Whitepaper: All you want to know about spread tow tape!
You probably already know that the right fiber is crucial for a good composite component. Like AFP and ATL technologies, also Fiber Patch Placement works with spread tow tape. The advantages are obvious: unidirectional fibers without undulations, oriented in load path direction, increase mechanical properties of components significantly. However, there are some critical elements to consider when working with fiber tape, starting with the production and selection of a high-quality tape. To make you more familiar with the characteristics and "quality pitfalls" of spread tow tapes, we have summarized our experiences for you in a new whitepaper.
Always in focus: The needs of our customers!
Fiber Patch Placement is the preferred technology for the automated production of complex fiber composite components. The additive design of components with size-adjusted patches is used in the aerospace and automotive industries, in the medical sector and for sporting goods. But it's not just about overcoming complexity. Our customers often pursue further goals with the use of FPP. Here you find a list of the most important ones so far:
Quality: When requirements on quality and accuracy of the fiber deposition are high, the self-correcting quality control of the SAMBA systems comes into limelight. Two high-resolution cameras and additional sensors ensure that each component is thoroughly checked for quality already in the production process.

Process time: The maximum capacity of your production set-up has already been reached? Nevertheless, increase your production volume with the efficiency of SAMBA systems. By the precise fiber lay-up with controlled pressure and heat, you can avoid intermediate compaction cycles and reduce process time significantly.

Scaling: Can one and the same production process work efficiently for a few hundred pieces per year as well as several thousand? Yes, it can – at least with Fiber Patch Placement. Thanks to the quick-change system and short set-up times, a product change on the system is no problem and economically reasonable: During ramp-up, an FPP system's capacity can be used for several components. With increasing quantities, the machine park is expanded and the systems become more dedicated. The advantage: the process remains the same – no new product development and no re-qualification of parts are necessary.

Reinforcement: Patches of our SAMBA systems feel comfortable on very different materials: glass fiber, wood and metal are the classics, but also honeycomb cores, solid foams and additional materials have already enjoyed load-adjusted fiber patch reinforcements – to further optimize process times also in-line / in-process.

Costs: In many applications FPP sustainably reduces operative production costs. Material savings of 20 – 50% play a major role, of course, but automation with FPP often enables further optimization of the overall production process.
Contact us to learn how Fiber Patch Placement technology can help you achieve your production goals.
Heading for Asia: Composite Application Center Singapore
Fiber Patch Placement on a global scale: We regularly receive inquiries from all over the world, especially from Asia. Following our partnership with Composite Automation for the North American market, another international cooperation was launched at the Hannover Industry Fair in April: Under the leadership of the Composite Clusters Singapore and together with other leading composites companies, we founded the Composite Application Center (CAC) in Singapore. The CAC offers a great opportunity to introduce our composite 4.0 technology to the Asian market and together with strong partners offer solutions along the entire value chain.
Review: Trade shows and conferences
In our last newsletter we presented the FPP "recycling" story: Left-over, residual material from AFP processes can be re-purposed with Fiber Patch Placement and thus avoids expensive and environmentally harmful fiber waste. We presented this concept in detail at the CFK Valley Stade Convention and the UK Composite Innovation Conference (both in June). The interest among representatives of the aerospace industry was encouraging and motivates us to expand this development.
Thanks to our partners Starburst and ESA, we were also able to present the latest Fiber Patch Placement concepts to the international aerospace public at the Berlin ILA. The response was impressing and it is always nice to see lightweight construction live in the air.
The first Munich Aerospace Summit was a successful home game at the Ludwig Bölkow Campus in Taufkirchen. The exclusive industry summit was attended by numerous aerospace top managers such as Dirk Hoke, CEO of Airbus Defence and Space, Nico Buchholz, Senior Vice President of Bombardier, and Torsten Pilz, Vice President Operations / Supply Chain of SpaceX, who made all the way from San Francisco to report on the current developments. As a speaker, Thorsten Groene dedicated his presentation to the opportunities and challenges for innovators in aerospace industry.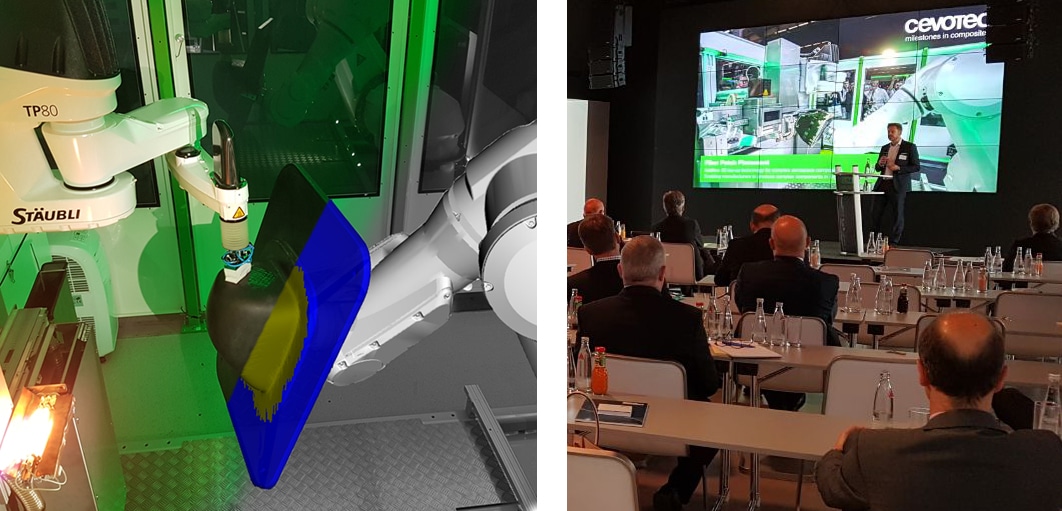 And the MAI Carbon Night, regularly held by the MAI Carbon Innovation Cluster, Cevotec was the host together with xC Consultants. With a hands-on workshop in the afternoon, we offered the opportunity to work with ARTIST STUDIO software and apply first-hand the entire Fiber Patch Placement process from virtual laminate design to automated fiber lay-up. We will repeat such a workshop on a larger scale in 2019.
FPP technology also "captured" about 25 students of "Institute for Lightweight Engineering and Polymer Technology" at the Technical University of Dresden. During their 2018 field trip, organized to get in contact with exceptional high-tech companies, the Fiber Patch Placement specialist Cevotec was on the students' itinerary, right in line with industry giants such as SGL or BMW.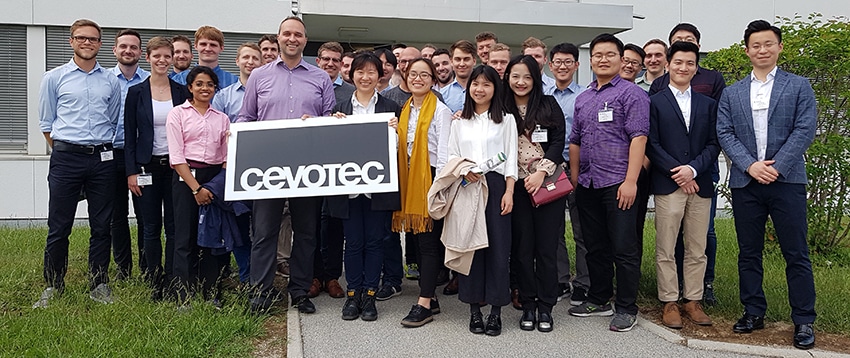 See you around?
We are looking forward to meeting you at the following events and conferences:
Composites in Sport
October 03 – 04, 2018
Loughborough University, UK
Speaker
GoCarbon Fiber 2018
October 09 – 11, 2018
Berlin, Germany
Speaker
CAMX
October 15 – 18, 2018
Dallas, Texas
Speaker
Advanced Engineering 2018
October 31 – November 01, 2018
Birmingham, United Kingdom
Booth N86, Speaker
4th International Composites Congress (ICC)
November 05, 2018
Stuttgart, Deutschland
Speaker
Composites Europe
November 06 – 08, 2018
Stuttgart, Deutschland
Booth E60e, Hall 9
Thank you for spending some time with us
It was a pleasure to look back on the last months together with you. You think that information about Fiber Patch Placement is also relevant for your colleagues and business partners? Please do not hesitate to forward the newsletter – here's the link to our subscription page.
Best
Your Cevotec-Team
More information about products & services, press clippings or job offers can be found on our homepage.
Copyright © 2018 Cevotec GmbH
You receive this email because you've either actively subscribed to our newsletter or explicitly consented to receive our mailings. Data protection has a high priority at Cevotec. Your personal information is safe with us. Please read details on how we protect your data in our Privacy Policy. Every email from us includes an unsubscribe link. You can also contact us directly at advantages@cevotec.com.